×
Registration
Please type the letters below *
POSH Birthstones

We realize there may be more than one birthstone used to represent a month. The designers at POSH use birthstones according to popular demand and uniformity. (Stones not mentioned below are unavailable.) All standard stones are synthetic, however precious (genuine) stones are available upon request for an additional fee. PLEASE NOTE*** We try to be as accurate as possible with our color charts and jewelry photos, however colors of stones may differ depending on monitor settings and may appear lighter or darker than this chart. Some stones such as Alexandrite (June) change color depending on the light. We cannot control the color/hue/saturation of the stones we receive in house from our supplier nor the way they are mined/made nor the lighting environment you view them in. Because these variations are out of our control, we cannot accept returns based on size or color issues. View pictures on our Instagram to see birthstones set in your favorite POSH pieces.

POSH birthstones purchased at various timeframes may slightly differ in color and/or setting. We try our best to stay true to our beginnings but some changes will happen due to customer feedback, cost, manufacturing process & technology, inventory etc. We are always looking at improving our product to keep costs low and still deliver high quality. If you would like to inquire about matching your older piece or have questions about birthstones please contact us before placing an order.
Our birthstones measure 2mm in size. We use a gypsy type setting unless otherwised noted. We cannot set anything larger in our pieces.
Hip tip: If you don't like the color of your stone, why not use a diamond?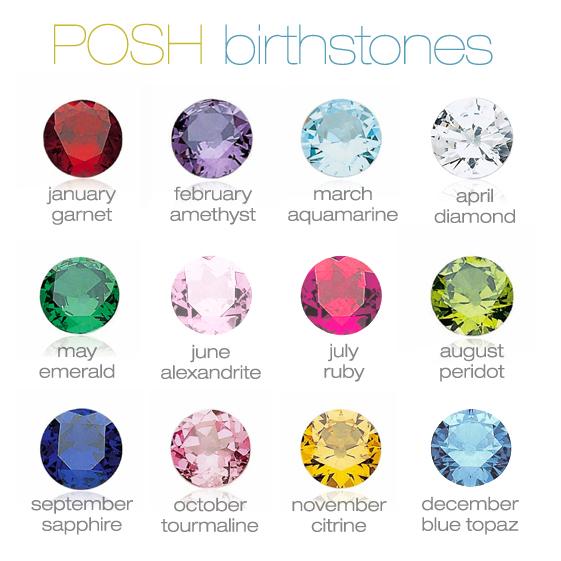 Birthstone Repair/Replacement
Our birthstones are warrantied for 12 months after purchase for any pieces exclusively purchased from our website. If your piece is missing a stone and is out of warranty, we may be able to reset a stone! We cannot evaluate if it can be repaired without looking at it in person. Sometimes we can tell by pictures so please send in clear pictures of the BACK and FRONT of your piece. We can only replace synthetic stones or diamonds in your piece as they are stronger to reset. Once your return is in house it can be evaluated and we can provide a quote.